Idera is a company that specialises in SQL and Sharepoint solutions.
Not long ago they acquired company called R1Soft which had a great Backup product and integrated it to their product lineup.
Now it's Called Idera Backup. Idera Backup is also available as a free version with limited functionality for Linux and Windows. Free product is pretty decent. Unlike EaseUS Todo Backup it uses a web interface. While they use web interface they manage to not use Flash like Unitrends Enterprise Backup.
Idera Server Backup Free Features:
Very Fast – Create server backups in minutes, not hours, it uses a special engine which is optimized for speed.
Flexible – Backup to any disk-based storage, internal disk, usb disk, share drive, NAS, SAN
Quick Restore – Disk Safe® restores files in seconds (UI screenshots below)
Saves Storage – Smart and efficient data retention policies, it uses smart algorithms which don't store the same data twice.
Easy to Use – Fast install when you download the program you will install it in minutes, then you just have to set up backup policies.
Muliplatform support – Idera Server Backup supports both Linux and Windows
CDP – It has Continuous Data Protection functionality, that means that when the backup is complete, the next job is started to backup the changes, when that one completes, backup job is started again and again…. so that loose minimum amount of data in case of failure.
One of the benefits of Idera Backup is that it has browser based UI. You can connect to the dashboard via browser.
Dashboard is showing information about backup tasks, and storage repository. On the left side is a menu, in the middle is you can see managed servers and backup policies. On the right you can see performance and Activity. Interface is simple, yet effective. You can easily spot when the backup ran, how the backup performed and storage capacity situation.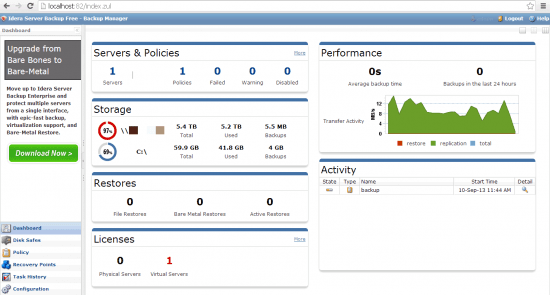 Creating  "Disk Safe" is simple. Disk safe is a storage repository either internal or external. You can use internal drives, external drives, NAS and SAN. You can create many repositories. You can also attach repository.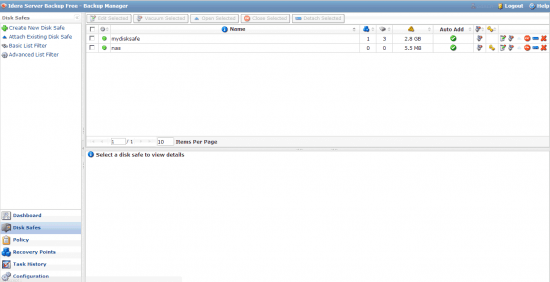 Especially important with external storage is that the drives are encrypted as you don't wan't other to see your data in case it falls in the wrong hands. Disk Safe can use compression and encryption.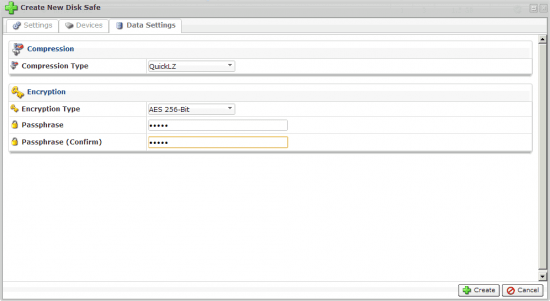 When you look at the running job you will see the state, replication, Average backup throughput, current network rate, Average network rate, Replica type, deltas received, Backup Compression size and run time.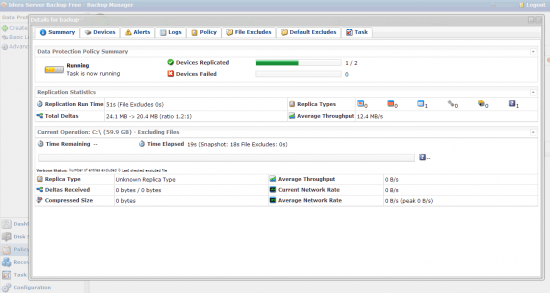 Idera has some features that are not available in other Free Backup solutions. It can be very useful to VPS owners. It's almost like a standard with shared hosting providers where the backup product is integrated in CPanel. In case you need more features there is always full edition which has support for Virtual machines, replication, DB and Application support, Bare Metal support…
How does FREE edition compare to payed edition?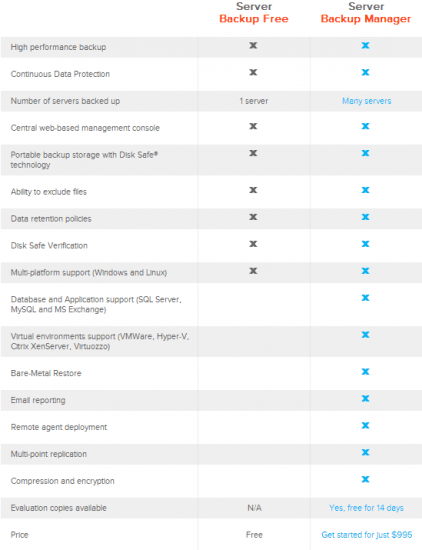 Supported systems:
Windows (Windows Server 2008 R2, Windows Server 2008, Windows Server 2003 (SP2+)
Linux ( RedHat Enterprise, CentOS, Ubuntu, Fedora, Debian, Novell SUSE Enterprise, Open SUSE, Mandriva (ReiserFS 3, Ext2, Ext3, Ext4)
Update 1.10.2014 : The product is no longer free. Idera bought Backup from R1Soft. Then it sold the product to Continuum. Now Backup software is back under R1Soft brand umbrella.
You can find more information on the full version of the product on R1Soft website