Brother asked me If he could borrow my Android tablet. I said sure, no problem. Unfortunately I had to write small how to for an app we use in the office. Luckily for me, there is a way to install and run Android in OSX via Vmware Fusion. You can also install Android on a Windows via VMware Workstation or VMware Player.
First you have to install VMware Fusion. Then, you have to download the latest Android version from Android-x86.org website.
Once you completed steps above, fun can begin.
There is also an alternative, android emulator:
Install Android on VMware Fusion OSX
When you visit Android-x86.org website, you have to select which version to download. When I created this guide, the latest version was 4.4-RC2, but now 4.4-r1, released in August 2014, is available.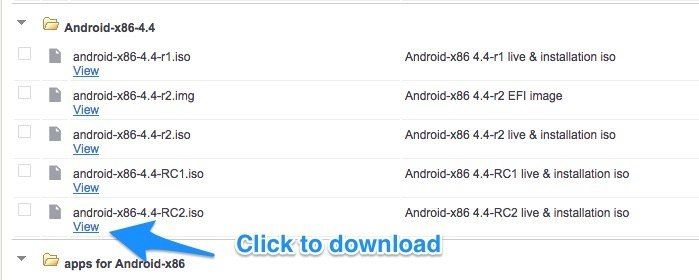 Click on a View hyperlink to download iso image. When download will complete, you can create a new Virtual Machine.
Open VMware Fusion on OS X or VMware Workstation on a Windows PC. Go to File and select New
New window will open, here you can select installation method. Since we have downloaded .ISO image, you can select Install from disc or image option. Click Continue to proceed to the next step.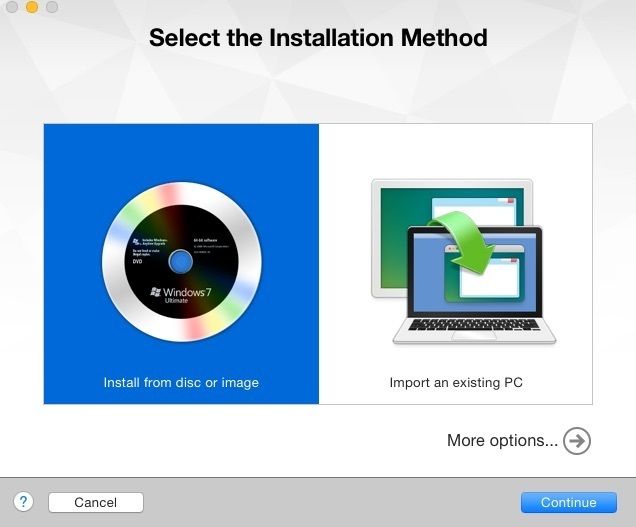 Click on a Use another disc or disc image button. Select android image and confirm.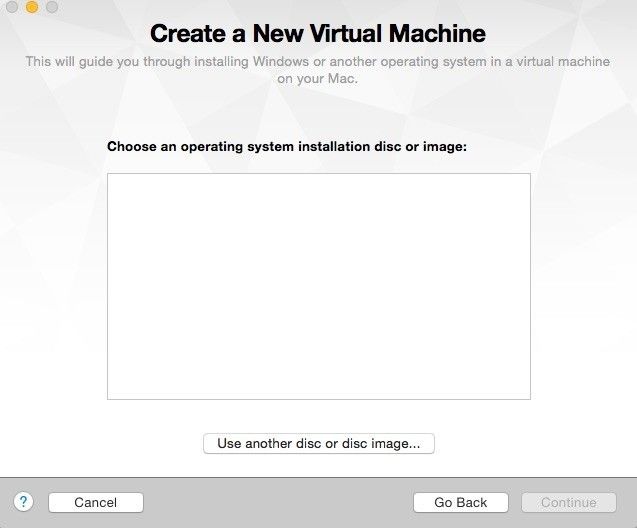 Android iso image you have selected will be shown. Click on Continue to proceed to the next step.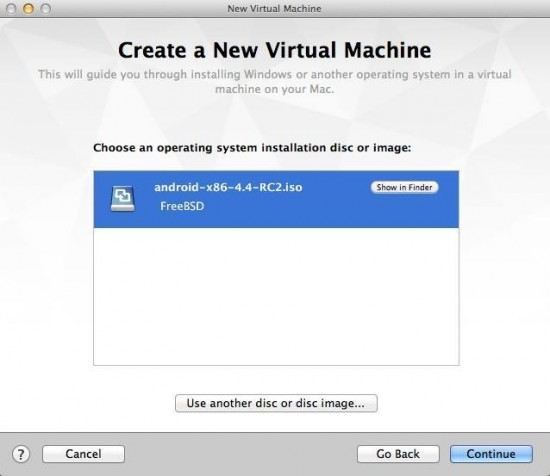 VMware Fusion will set machine type as FreeBSD. It's ok. Don't worry about it if you think that it should be Linux instead.
In this days smart phones and tablets come with 2GB Ram by default. You can add 2GB Ram to VM but it will work with 1GB just fine.
By default HDD size is set to 20GB, if you don't have space constraints, you can leave it at 20GB.
To reduce HDD size or change RAM settings, click on a customize Settings button in the last step of configuring your new VM.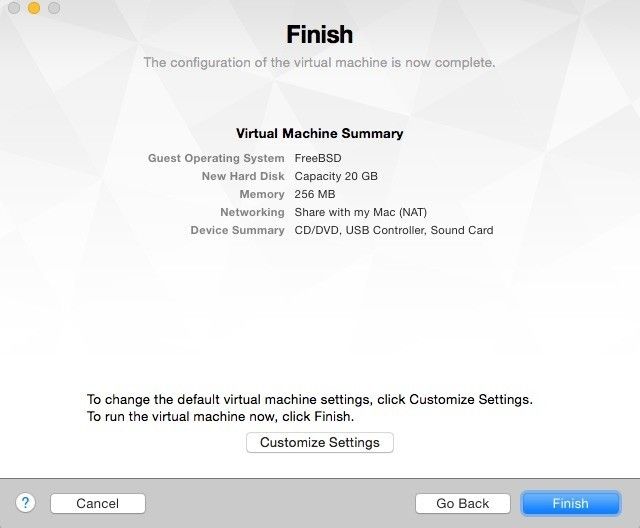 When you'll click on Customize settings button, save as dialogue will appear. You have to select location and name of your file. Click on save.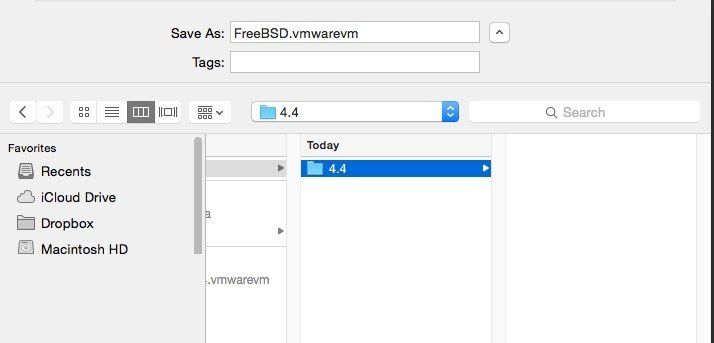 Now, two windows will appear. First is a virtual machine which you can start (I have placed Settings window above VM window for making a screenshot). Second window are settings for this VM (Settings window at the top). If you want to reduce HDD size, you have to click on a Hard disk (HDD) icon.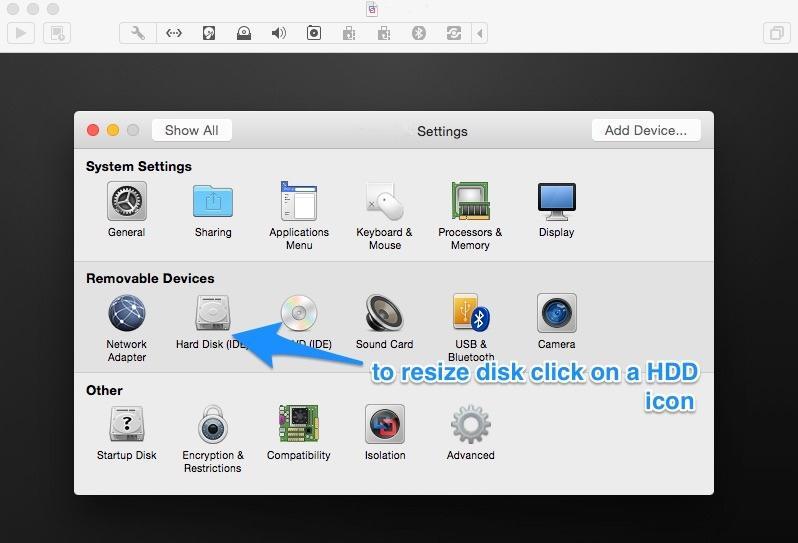 To set custom HDD size, you can use a slider or you can enter size value by using a keyboard. To confirm new size, click on Apply button.

If you want to change RAM settings, you have to click on Processors & Memory icon, you can change RAM size in a similar way.
Once you are done configuring settings you can close settings window.
Now you can install Android on OS X or a Windows PC. Click on a play icon to begin with installation.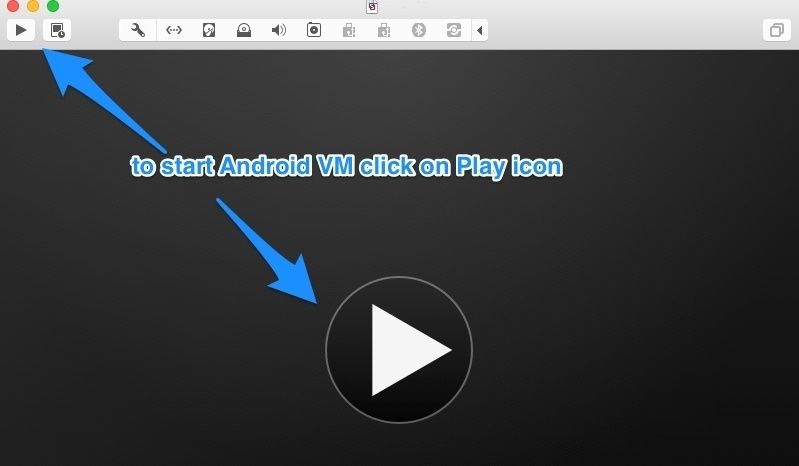 Please note, once you click on a VM, keyboard will be locked to the virtual machine. You won't be able to use mouse to move from Virtual Machine to your OS. To navigate inside the VM you will have to use keys on a keyboard. To release keyboard and mouse press Ctrl and Cmd buttons at the same time. On Windows PC press Ctrl + Alt.
When you will be presented with a boot screen, navigate to Installation – Install Android x86 to hard disk, press enter.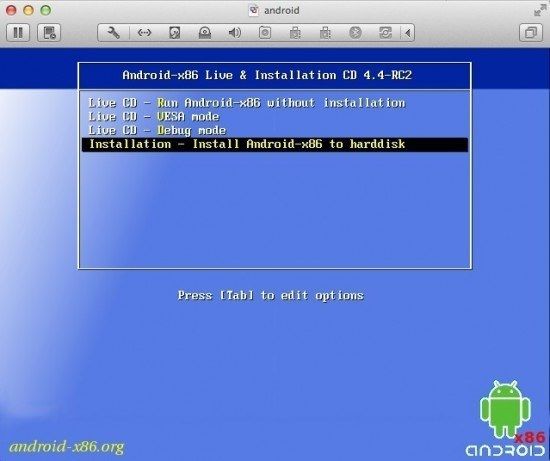 Now we have to create a partition. Navigate to Create/Modify partition, press Enter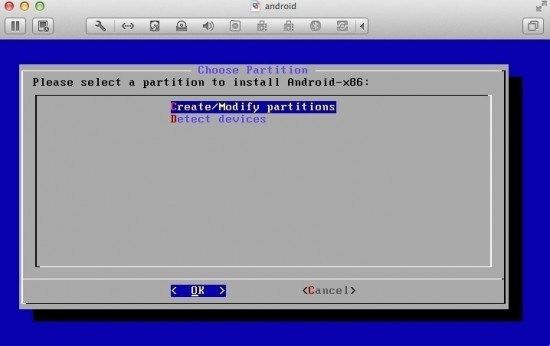 To set up a new partition select New (navigate with cursor keys – up, down, left, right.), press Enter.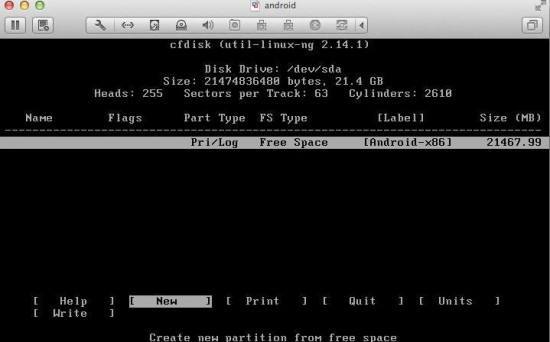 Now select Primary partition, press Enter.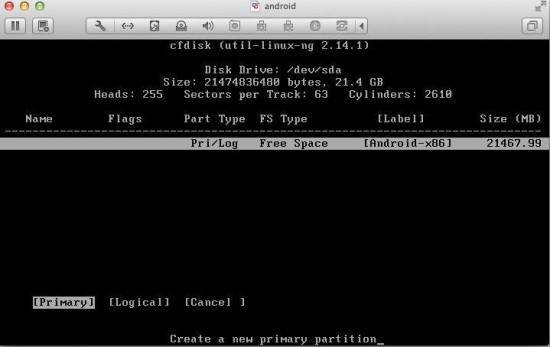 We have to make partition Bootable, confirm with Enter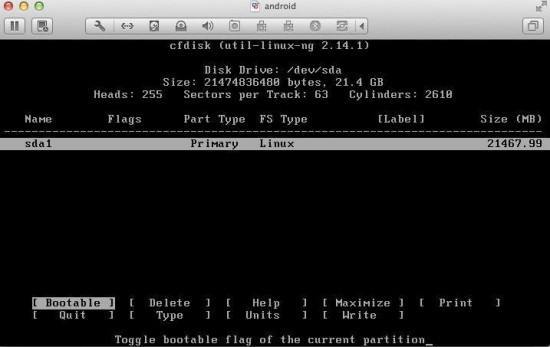 It will ask you about partition size, In my case, I used 20GB default size. If you resized you virtual disk to 6GB, you will see 6440.39 MB in size. Press Enter.
In the next step we have to set partition as bootable. Bootable option is selected by default, so just press Enter. Under Flags column, Boot sign will appear. All you have to do is to press Enter. If you have used default HDD size, you will see 20GB partition size, If you have used custom size, you will see custom partition size. For a different size example, I have used 6GB to give you an idea how it will look, but If you have used defaults, 20GB will be shown instead.
Once you made it bootable, we have to write settings to the partition, to do that, navigate with cursor keys to the right bottom side and once selected, press enter.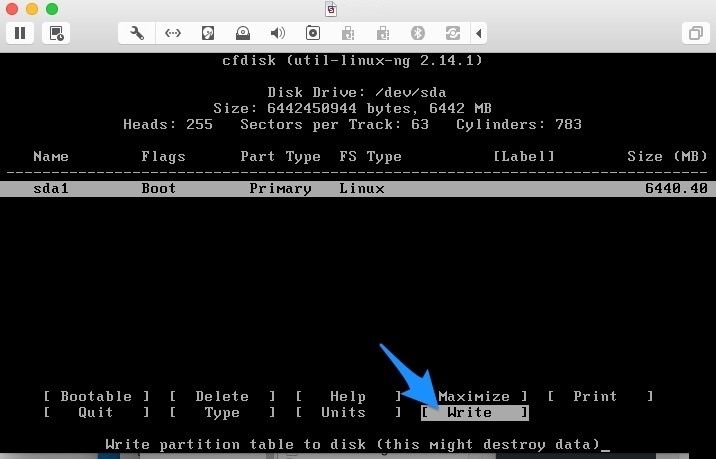 Last step is to confirm and to create a new partition. You have to type yes and confirm with Enter. When operation is completed, navigate to Quit and press enter.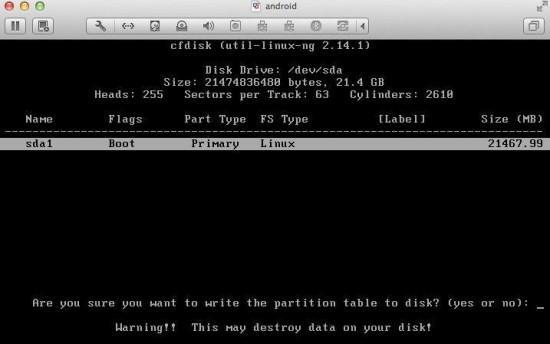 Now you have to select partition we have just created. Confirm and press enter.
Now we have to select Filesystem to format newly created partition. Choose Ext3 as a Filesystem and confirm by pressing OK with Enter.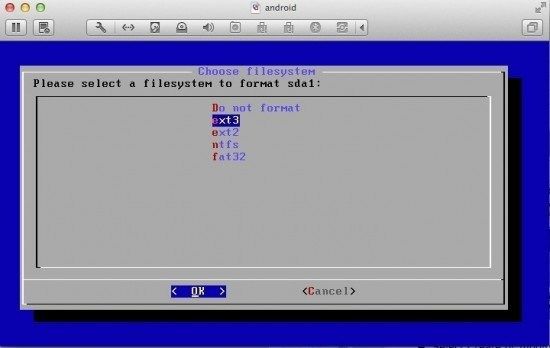 It will ask you if you really want to format sda1 (our partition) with ext3 filesystem. Confirm with yes by pressing Enter. It will format a partition.
On the next screen, it will ask you if you wish to install boot loader Grub .
Select yes at Do you want to install boot loader GRUB screen, by pressing Enter.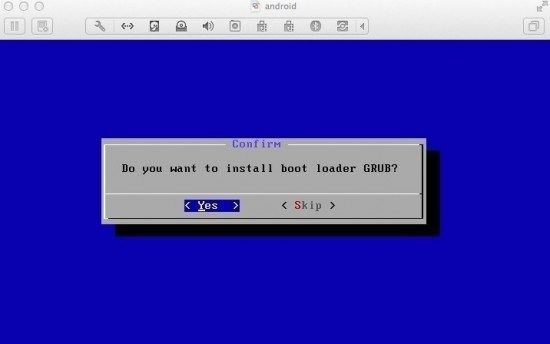 It will also ask you if you want to install system directory as read-write. Select yes and press Enter.
The last step is to choose whether you want to run Android or if you would like to reboot. Choose reboot.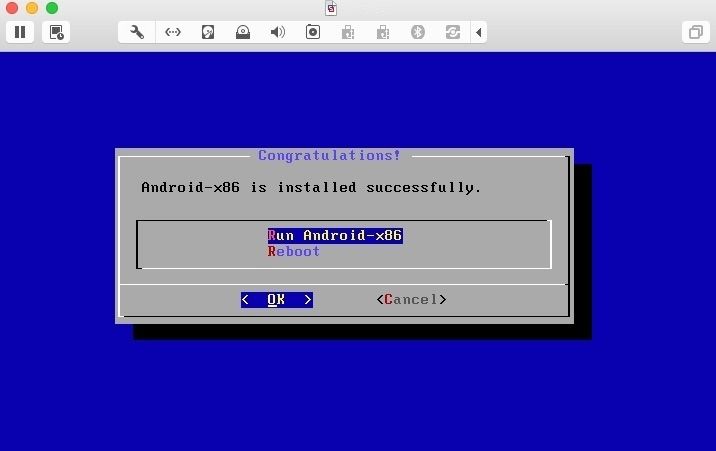 After system restart, you will boot to the newly installed Android environment. Mouse will start working, but you will still have to release keyboard and mouse when you would like to navigate away from VM.
Setup basic settings. And proceed to the next step.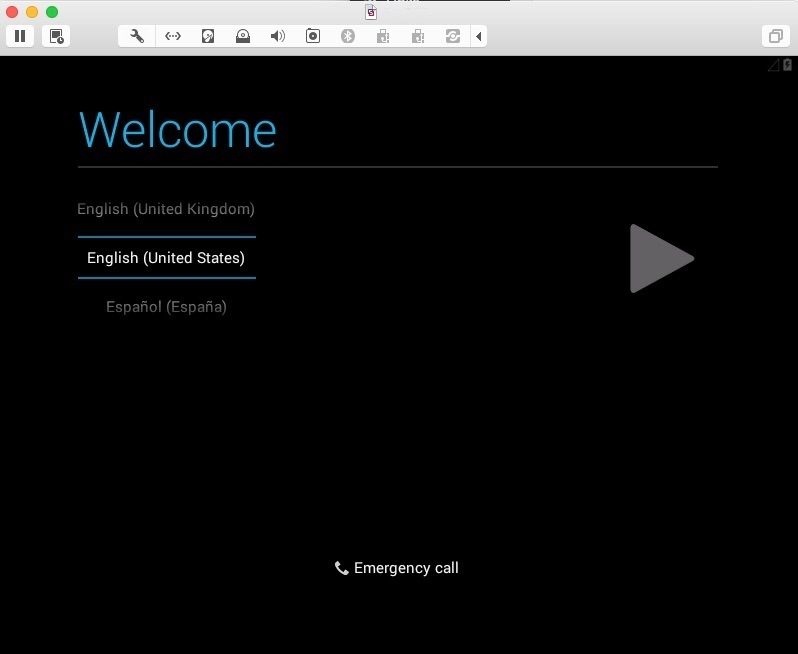 You can use your own Gmail account or you can set up new one. You need Google account to be able to install applications from the Play store. Once you complete all the settings., you will see familiar environment.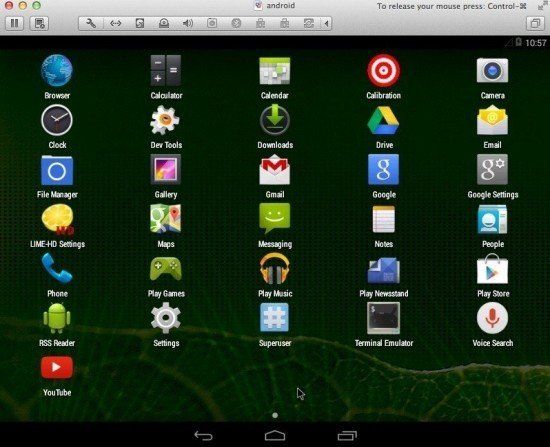 We have covered How to install Android on VMware Fusion OSX but you can use the same procedure on Windows with VMware Workstation. If you own EEE PC, Android-X86 provides images which can be used to install Android on your net top.