Sometimes, just sometimes, I stumble on a product that gets me really excited. We have decided that it's time to move from our helpdesk solution as we needed a better solution. I tested many products on the market. While some were very good, none of them was like Wow. Until one day. I found Lansweeper.
We used to use several programs which were all used separately. For example, we used Service Desk from vendor 1, Knowledge base from vendor 2, asset management solution from vendor 3, etc… In the end, while we had all the information, information was not available from one place. There are two reasons why we chose multiple vendors for the services:
Price – good all in one products are either rare or expensive
Features – features are missing
We tried to use one product for Service Desk and another product for Asset Management from the same vendor. Because they were from the same vendor, they were able to share data.  But the licensing was treated separately. Because they were from the same vendor, they integrated a bit, you had an option to deploy software from the Service Desk, but if you wanted to use the inventory you had to log into the program. In the end, solution ended up pricey and clunky. We got used to the solution, but it just wasn't there.
Luckily I found Lansweeper. Lansweeper is a perfect companion to every IT department where you want to save time. First, the program is fast. When you click on an action, it will open instantly. You also don't need many resources. Compare that to Java based Service desk solutions where you quickly see that the product gets slower and RAM consumption goes to the computer maximum.
Lansweeper review – all in one-time saver
When a technician working in helpdesk receives a call, what tools does he require to be efficient? He needs access to the Active Directory, to unlock user accounts, access to information about computers on the network, printers, IP range, switches information… Ideally, a technician would have access to Switch Port Mapper, Service Desk, Knowledge Base, Software and Hardware inventory. In addition, a technician would be able to deploy software which is considered as a standard for the company. There are many Service Desk solutions out there. Some products promise a complete ITIL ready solution while other products offer a basic – helpdesk version with an option to upgrade to the full-fledged Service Desk for the price.
We were looking to replace our Helpdesk with a new solution. Our ideal solution is a Service Desk which has an option to deploy our standard software. Our Ideal Service Desk would also feature IT inventory – both, software and hardware. One of the requirements we have is to know the state of our licensing – all the time. We had learned a lesson when Microsoft approached us with their audit. The pretty unpleasant situation, where you are treated like a pirate before you prove that you bought all the licenses. When you are faced with the audit, you have to know exactly how many licenses you own and how many licenses are installed. While we were keeping our records, there is always some discrepancy as you move computers and licenses around. There are many software solutions which help make licensing a breeze. Many Service Desk products offer an add-on or a separate product which is integrated with the Service Desk. This product or an add-on with an asset functionality can also have the ability to deploy a software. Most of the times, pricing for such solution is pretty expensive.
Lansweeper review – Amazing product in hiding
Lansweeper is a type of product where you don't find it's potential until you install it in your environment and start using it. Lansweeper website is pretty modest, a bit outdated design and it looks like they don't know how to express all the benefits to the visitor. Lansweeper started as a sweeper – inventory program which evolved slowly to a complete solution with Service Desk it is now. In fact, Service Desk module is the module that was developed last. Being the last means that it may not have all the features of competition. But it does have something that is missing a lot in Service Desk space. Unity.
Lansweeper Interface
The first thing you see when you log into Lansweeper is a Dashboard. Here you can add widgets and extend default look. You can see anything from Ticket statistics to a computer brand summary in your environment. The main page features tabs, which you can use to see details about Servers, Software, Hardware and Active Directory. You see, it is a perfect tool for Administrators as well as technicians. Admins should review the environment every morning when they start their job. They need to know what is happening with their assets. For example, you can easily review Event Logs on the servers. Also, when you troubleshoot a computer, Event log information is always at your fingertip, as if the guys who developing this software were admins as well.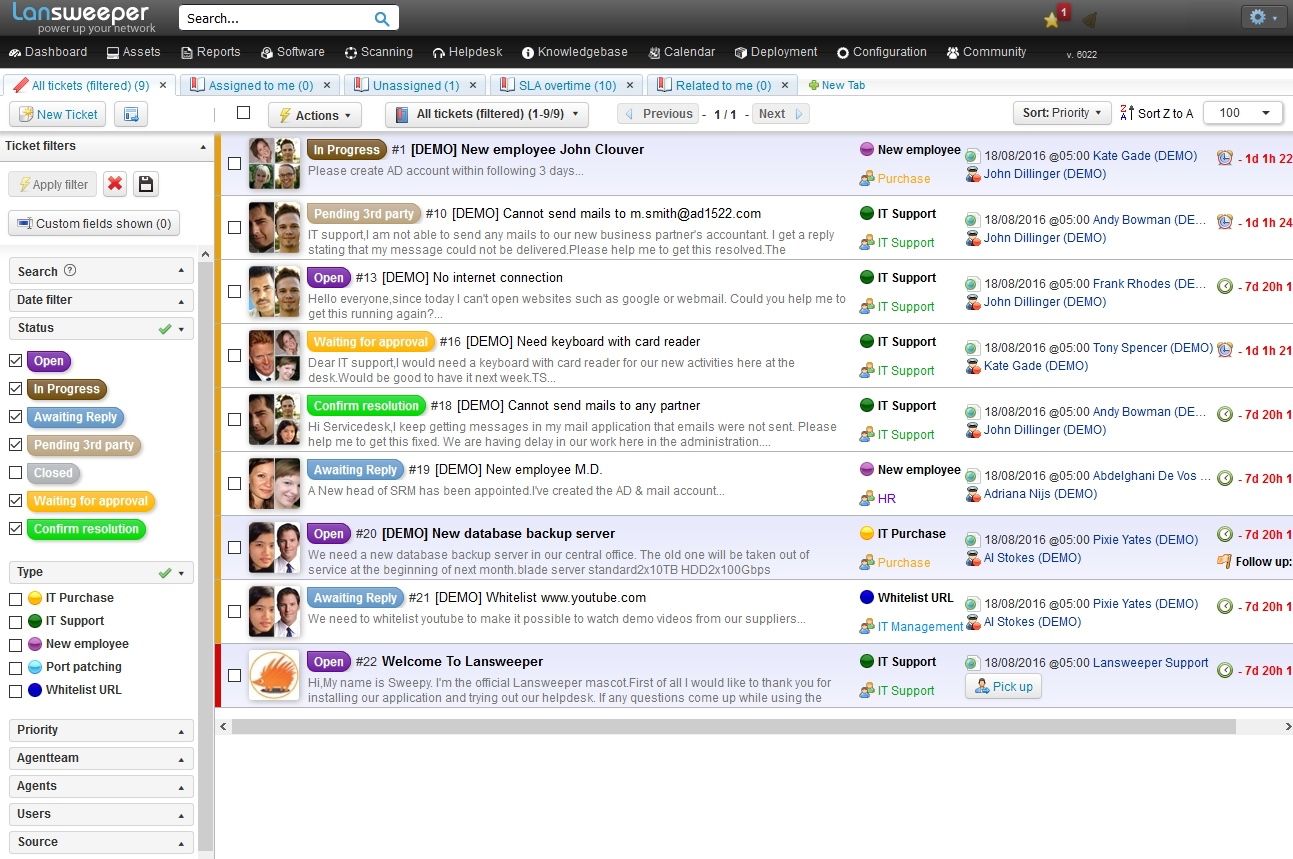 Lansweeper Assets
When a technician receives a call from the customer, it's important that he knows the name of the computer so that he can connect and fix the problem quickly.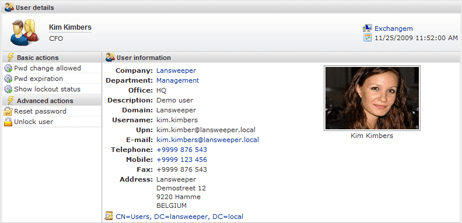 Some companies have all computers labeled with a sticker, some even have a computer name embedded in the background. There are also companies which have a mix of labeled/unlabeled computers. Let's face it, in every environment, you will find computers with names that don't quite match the names planned for that computers. If a customer does not know a computer name, you have to guide him to that name. But, with Lansweeper you only a Windows username. When you enter the username in Lansweeper, it will show you computers associated with the username, tickets that the user created and AD groups where he belongs. When you have a person on the phone in need of a solution, you have to react quickly. Lansweeper has many under the hood tricks that improve technicians response.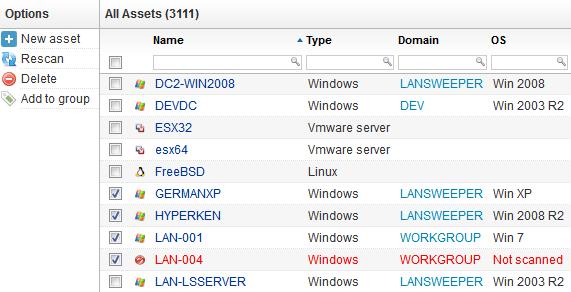 In addition, Assets module is one of the selling points with Lansweeper. It will scan automatically your network and create a list of all devices you have on the network. You have to provide various credentials to make this possible, like Linux, Windows, SNMP, etc… but in the end, you will have a list of all the computers, printers, switches, routers, servers, VMWare and Hyper-V host, virtual servers and computers, monitors, VOIP phones, UPS  and all IT devices that connect to the network. To make things even better, you also have a port mapper bundled in the solution. When you look at the switch, you will also see, which devices are connected to the ports. That way, it is very easy to locate a computer or printer.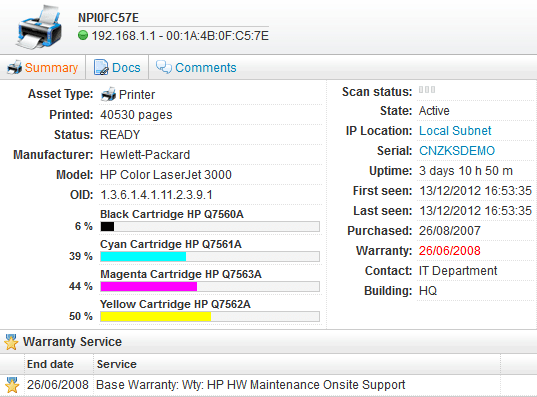 In theory, Lansweeper looks great, but what about day to day operation? Let me tell you from the experience that Asset Management module is one of the best features. I used to rely on XLS spreadsheets where I had all the switches and routers listed based on locations. Now I only select a city, type of device and all switches and routers for the area are listed. I get this info in a second and I don't have to leave Lansweeper interface. In addition, part of Lansweeper is also IP Management module. You can quickly swipe through the IP list and see various devices.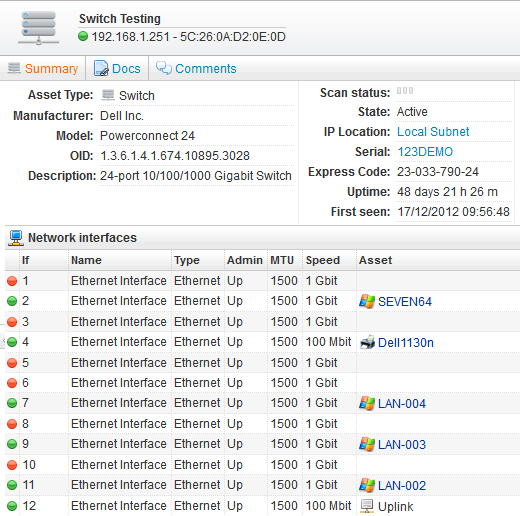 When I receive a question like, how many computers we have to upgrade (based on age, based on RAM, based on OS) I just enter a couple of parameters in Lansweeper, and I can send a list to the CFO. In the past, I had to compile that list from several sources. Not anymore.
The other day, a customer called me. Based on a problem he described, I instructed him to restart a computer two times per day just to see if the problem goes away. He told me, he restarts a computer on daily, several times per day. If he did this, I am pretty sure he would not have a problem. I clicked on his computer and noticed that his computer was not restarted for a long time.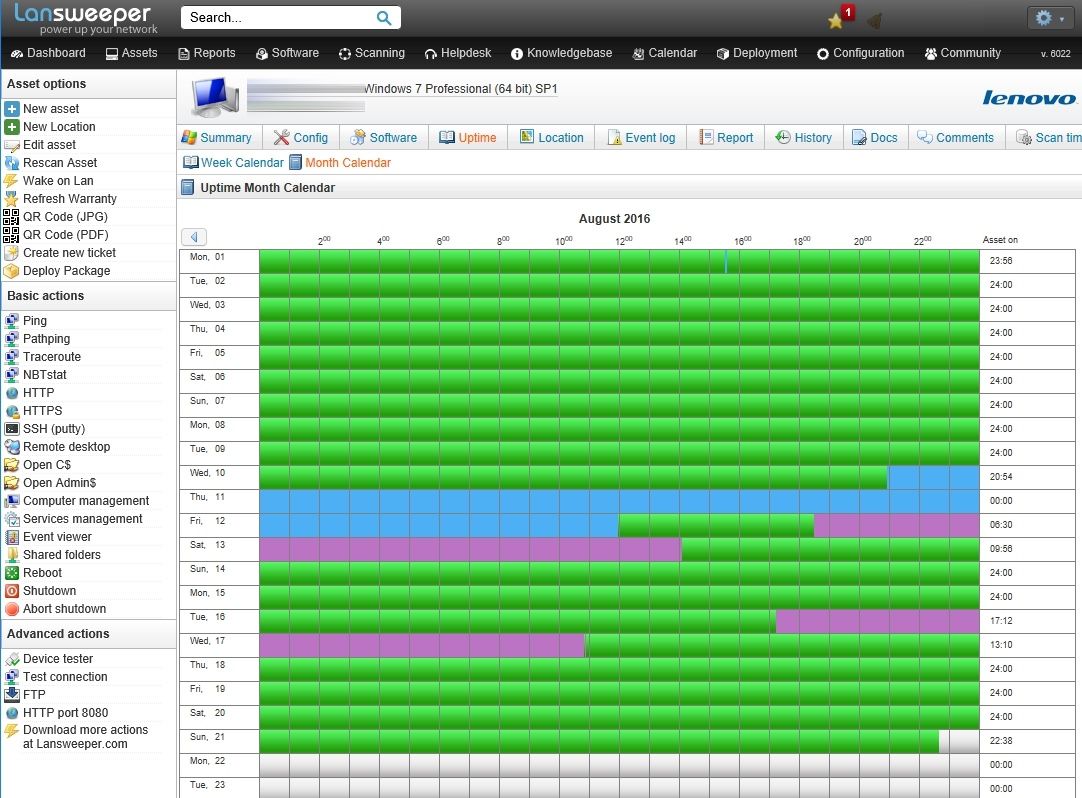 You see, this is a power of Lansweeper. You know things you only dreamed of.
Software Inventory/ Licensing / Deployment
IT Technicians need to know which software is installed on the computers they troubleshoot. Not only software type but also software version. For example, when a technician receives a call that customers Outlook is having problems with sending emails several times a day, a first question that may solve a problem is: What Outlook version is installed? Is Service Pack installed? If yes, which version? To get the answer a technician should either guide a customer to find an Outlook version or connect to the affected computer and find the version by himself. With Lansweeper you just enter the username of the customer and find all the software that is installed on the computer, including software version and time of software installation. Having such Information on disposal is imperative to cut down on support time and customer satisfaction.
For the IT Manager having various software information at the fingertips is a gift from the gods. For example, to cut time on licensing you to have to be able to filter out commercial software. You can do that easily with Lansweeper. I find myself using software Inventory feature more and more. We immediately set a budget for the missing licenses and a plan on the standard software for our company.
Calendar
One of the features in Lansweeper is Calendar which you can use to schedule events. Events can be shared among the team and can be put to good use. For example, technicians can use Calendar to enter their off-duty days like holidays or sick leave. You can also use a calendar for major events like Server upgrades, UPS and Generator maintenance, office cleaning days and so on.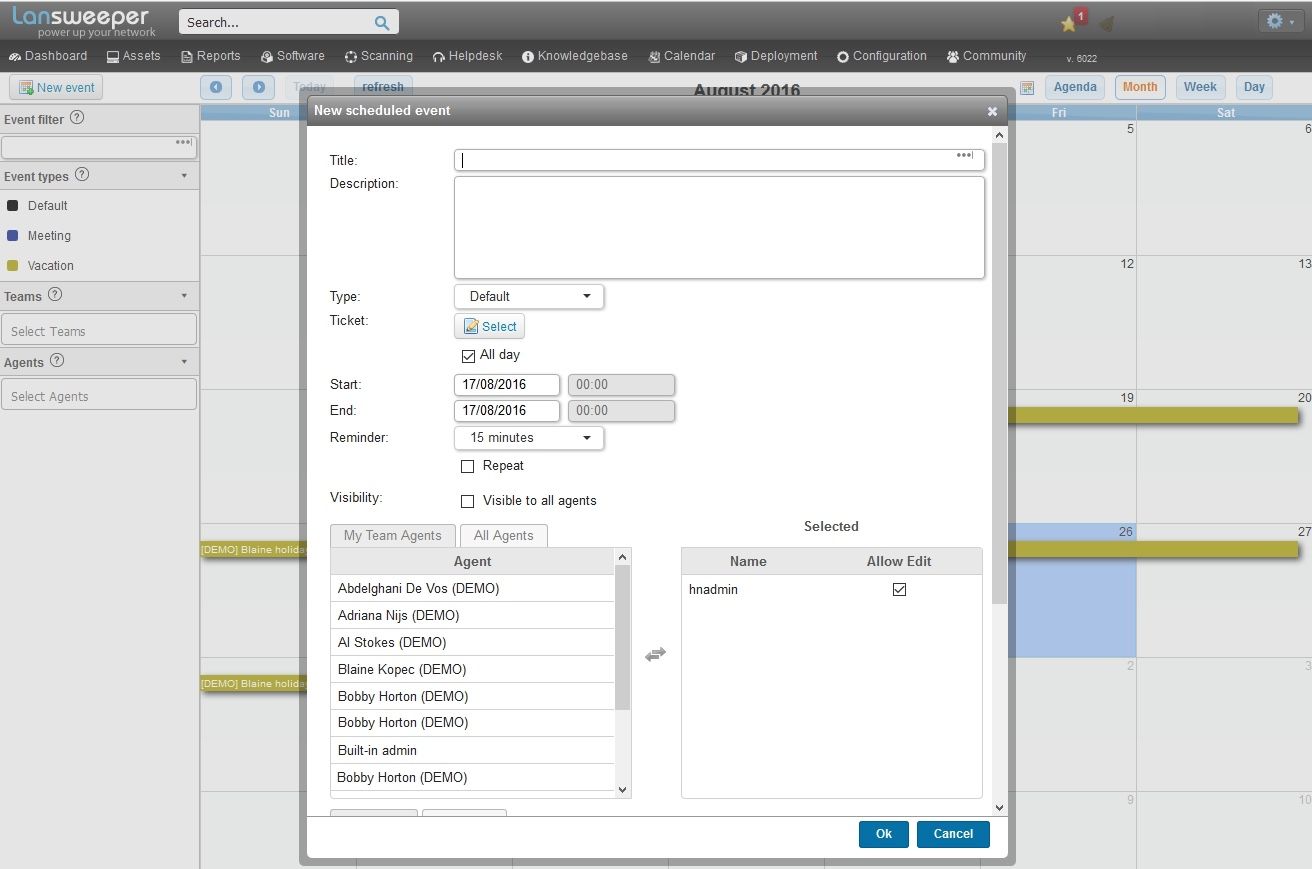 It's a very handy feature once you have a team.
Ticketing
Ticketing is the latest addition to Lansweeper and that has some advantages like modern interface where you can quickly see who is included in the conversation. If you are looking for ITIL features like Incident, Problem and Change Management, then I am sorry to disappoint you. Lansweeper is not a full-fledged Service Desk.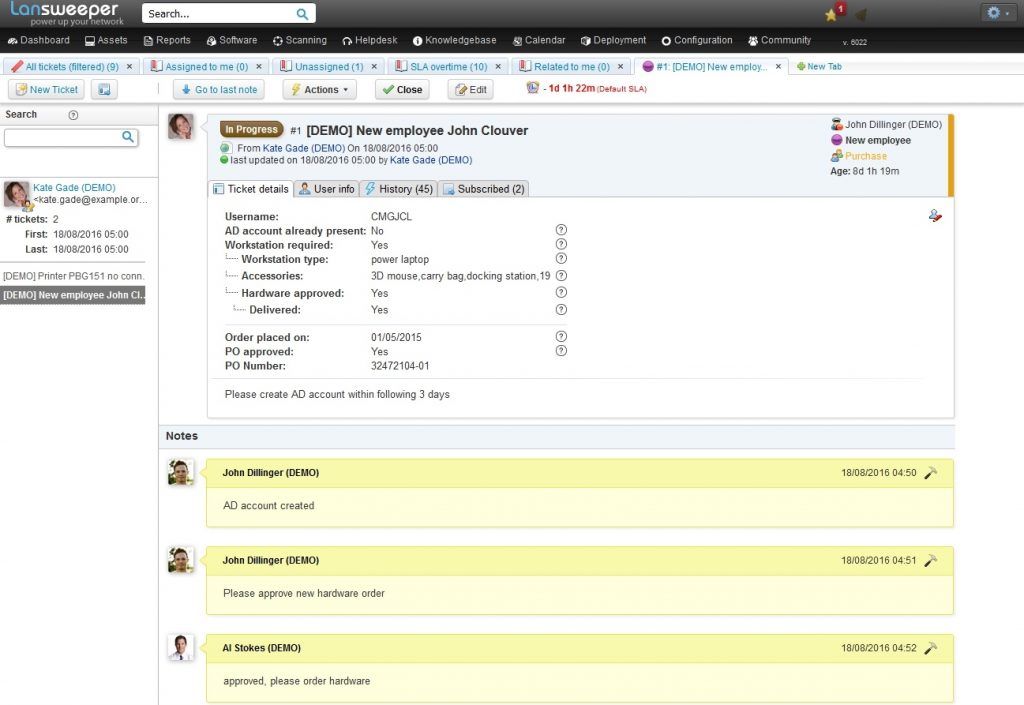 One of the areas that are lacking is also reporting. If you are looking to find reports for missed SLA and all the most common reports on Helpdesk, then you can look away. Helpdesk Reporting is very basic. To battle basic reporting you can use widgets to show the most important information. You can also contact their support to help you design reports. I tested their support and they provided information so I could design an SLA report.
Knowledge base
Knowledgebase module is a welcome addition to the package. We used to run knowledge base on a WordPress website. Having two separate systems does not add up to the IT staff efficiency. It's just too much hassle. For example, when you decide to publish a kb articles, you have to log in to the other system first. Second most annoying action when you are writing an article on WP platform is the way you paste pictures. In WordPress for example, you have to upload pictures first. While you can invoke upload action when you are writing, Lansweeper has a much better system.  When you need to upload the picture, all you have to do is to paste the picture and Lansweeper will do the rest. You don't have to bother with pictures upload.

You don't have to loose time by logging into another system. The only downside Lansweeper has with Knowledgebase are permissions. You can decide how you will treat it, based on permissions:
Public knowledge base – all articles are public and are available to your clients (for example how-to articles for printers and MS Office)
Knowledgebase is accessible to the technicians only (for example various passwords, Printer, Switches and router IP's)
If Lansweeper had a third option where you could limit certain KB articles to the public and the rest to technicians, that would be great. In current implementation you have to decide wheater you will be limiting technicians or your end users seeking help.
Deployment
One of the Lansweeper features that have a great potential is a deployment module. I can see a day, when I will be able to select a software that I like, like LibreOffice for example. A package would be downloaded automatically and be quickly ready for deployment to specified computer. I see a day where a list of software would include the most used free and open source software. Unfortunately, that day has yet to come. In the current incarnation, a deployment module is a way to create a package manually. You have to enter the offline installation switches and once you get that right, a package is ready for deployment. Once you have the package created, technicians can deploy it easily. If you are looking for a solid deployment solution, I suggest you take a look at PDQ Deploy which can complement Lansweeper with 5 stars. It's also very affordable meaning that you can combine both solutions for a fraction of the cost you would pay for the "superstars" solutions.
Summary
I really like Lansweeper. It's a refreshing product. It does not claim to do everything and it also does not claim to be the best. What I like is that it's a complete product which can help IT technicians do the work. When you star using it, you can't believe how much time you can save. We used to use a "real Service Desk" which was visible on Gartner report. We also used their Desktop management and IT Assets inventory solutions. We spent heaps of money but never seen the benefits their marketing promised us. One more thing that we noticed with Lansweeper. We can use one central server for our main office and 10 off-site locations – totaling 2000 devices. Lansweper is very efficient with scanning. Don't expect similar scanning performance with Spiceworks for example. Technicians also love it. They can do so much so much more so much faster.
Pricing is one of the most affordable, even though they offer heaps of features and are a European company.
As for the missing features in the helpdesk module…. I am pretty sure they will catch up. And the deployment module – if they manage to create a software catalog where you could click and download automatically, you have a winner. They have a fast development pace. Hopefully, they will improve Helpdesk reporting in the next version. It'S really important for us. I think that Lansweeper has a bright future and I do recommend it. It is affordable and it's being developed actively, many great features are coming really soon. Oh, they also have a free version which is a bit limited but can be a used for a small team.