The Synology DiskStation DS918+ is a successor to the DS916+ which you can still find on the Amazon store in the below $500 range. Compared to the older model, DS918+ is a little bit more expensive, but for the price difference, you get a lot more. For example, it's older brother DS916+ has an annoying front plate, which does look nice and clean though. It also has slower internals and less performing RAM. On the other hand, DS918+ has a new chassis design, which is got functionality from the DS1517+. HDD trays which are now exposed offer much faster HDD installation and replacement.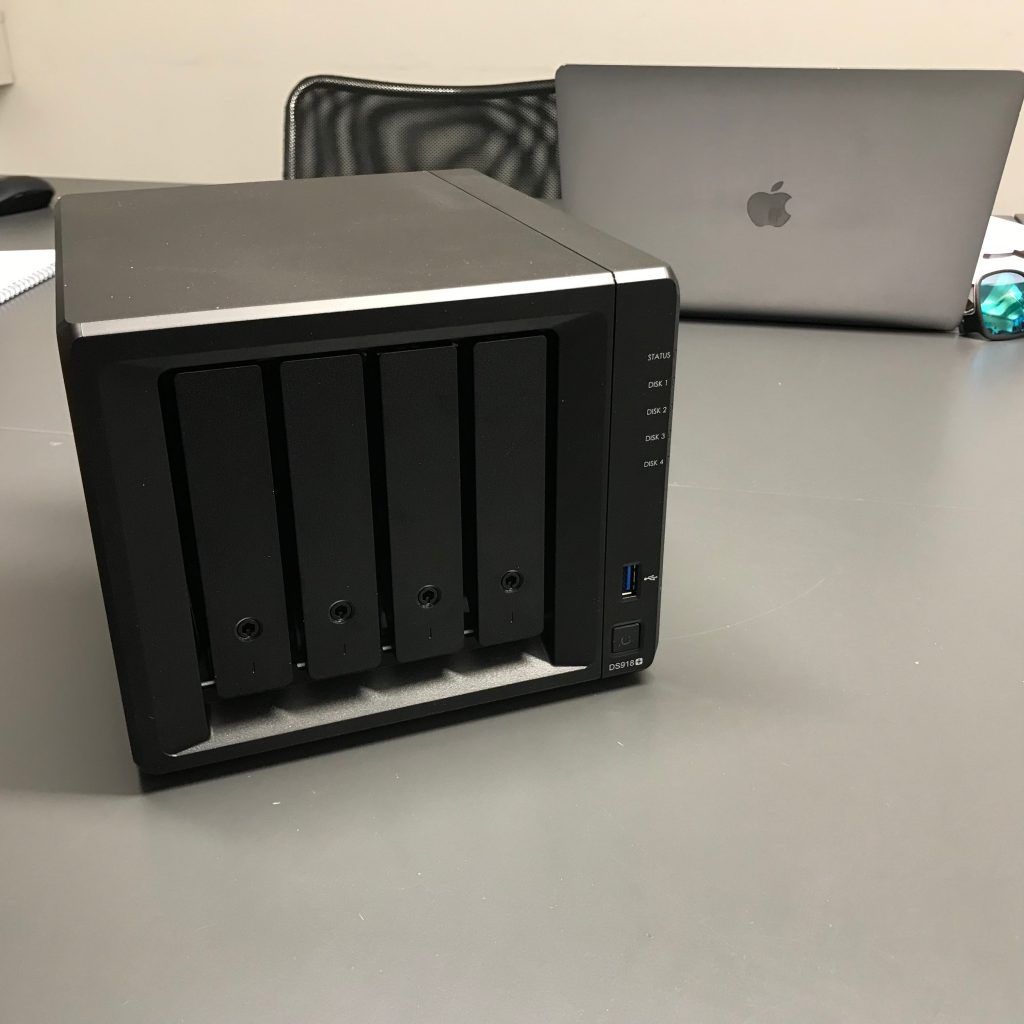 On the right front side, you will find LED indicators and a USB port.
On the back side, you will find two large 12cm fans to ensure NAS stays cool. Below the fans are two RJ-45 Gigabit Ethernet ports which support link aggregation. Below the Ethernet ports, you will find eSATA port which you can use to attach the fifth Hard Drive or an extension unit. On the back side, you will also see an additional USB 3.0 port and a power connector.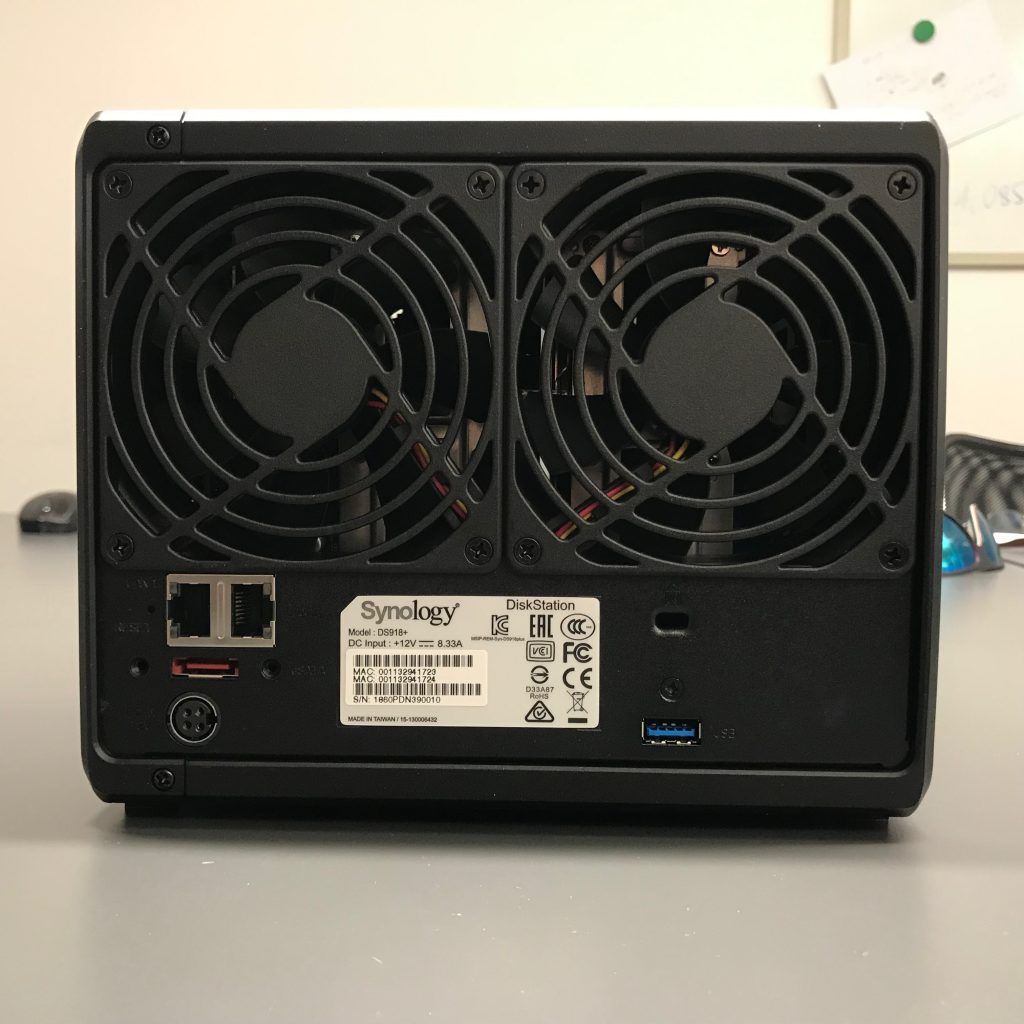 DS918+ carries a premium price one might say, but improvements are worth it. Let me explain. In the past, four drive bay NAS was pretty limited regarding the speed/capacity. Since you only had four bays, adding an SSD drive to speed up IO operations had a steep cost. You lost an HDD bay. DS918+ has a significant improvement over the older model. When you turn it upside down, you will find two M2 NVMe SSD slots.
That way you gain two additional slots for SSD cache, and since this slots are NVMe, the speed for SSD cache can be amazing.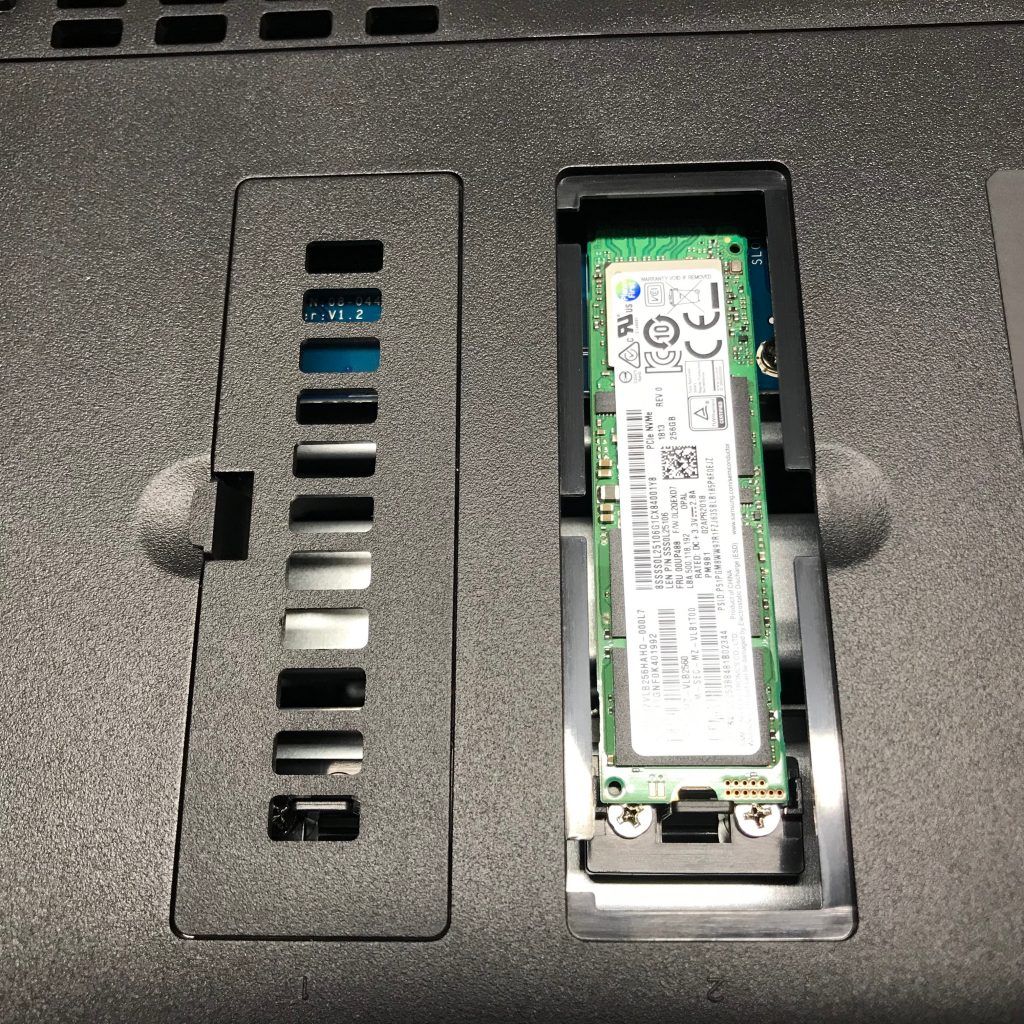 The internals of NAS also shows why DS918+ is one of the best NAS in its range. First, you can easily remove HDD trays. You don't need any screws to attach HDDs to the trays. In addition to 3.5" HDDs, you can also attach 2.5" drives. For example, SSD drives or hard drives you have left from the laptop migration to SSD drives. Once you remove drives, you will have access to the SODIMM memory slots. That way you will save some time as you won't need to take the box apart to add additional memory to the system. You can see why DS918+ rocks. You have easy access to all critical parts of the NAS. Two ticks and you can add M2 SSD cache. One click and you can take the drive out. Four clicks and you gain access to the RAM area. Even replacing hard drives is quick and easy.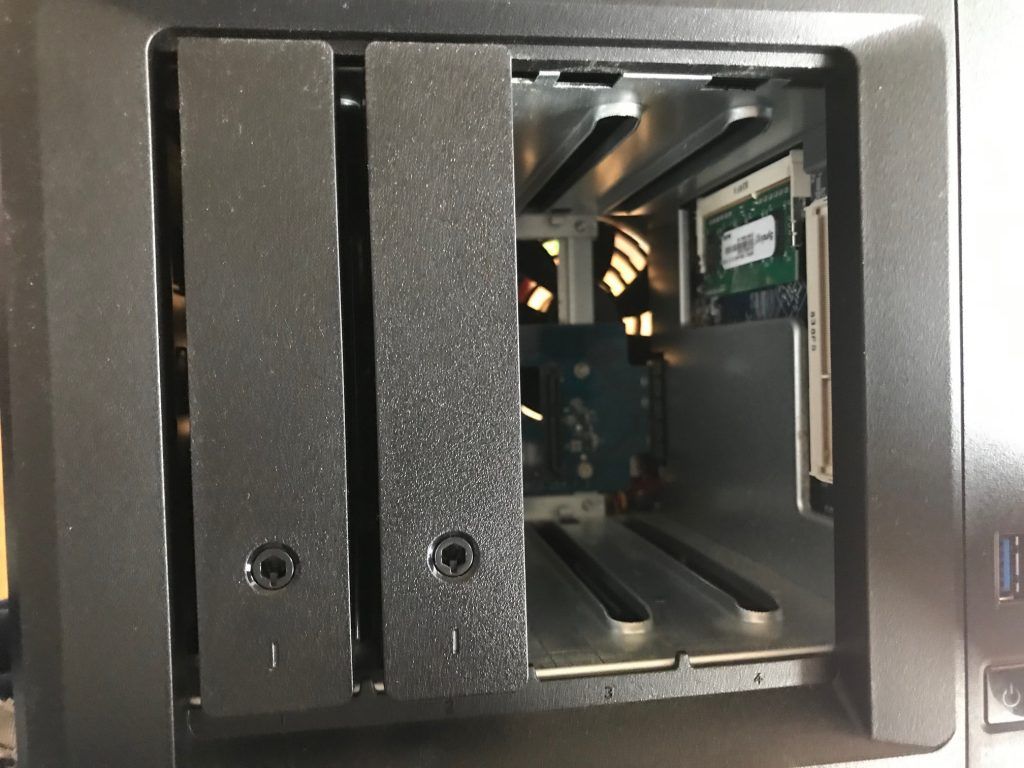 What about the storage? DS918+ is a four-bay drive NAS. Maximum internal RAW capacity is 56TB when using 14TB drives (depending on the RAID type). If you need more capacity, you can add an extender DX517 which will add five slots for HDDs. That way you can increase capacity to a maximum capacity of 126TB. 56 TB from internal bays + 14 TB drive x 5 (again depending for RAID type, values for JBOD.) The maximum size for a single volume is limited to 108GB. When talking about maximum capacity, I know that you may ask if the NVMe drives can be used to extend the capacity. Unfortunately, you can use NVMe drives only for a high-speed cache. Are you are wondering what is the speed difference between the SATA3 SSD drive and NVMe drive? Synology is using NVMe 4x interface, meaning that speed difference can be up to 4x. But it is all depending on the NVMe drive you use. Let's say that a good SSD drive has a 500MB/s reading speed. When you install an excellent NVMe drive, you can expect reading speed even in the 2GB/s range. Before you buy cache drives, please note that NVMe drives, especially cheaper ones are SATA based and thus limited to a 500MB/s reading speed.
The benefit of using cache drives? The main advantage is increasing the speed when accessing, reading and writing speeds. Files which are often accessed are cached. That means that slower hard drives don't have to spin up as data is read from the SSD drives. Because SSD drives are faster, reading is faster. Sometimes Hard drives even don't have to spin which means that you can also extend the lifetime of the drives. Where SSD cache shines is also when you use the Virtual Manager to run virtual machines.
Need for Speed
DS918+ improved all areas compared to the predecessor. Changes to the front, have made easier and faster access to the hard drives. Access to the RAM is much quicker compared to the old model as well. Additional two slots at the bottom for NVMe drives are a welcome addition to the four-bay NAS. But what about the CPU? The previous model used a Pentium N3710 while the newer model uses Celeron J3455 which is much faster, in some cases like AES encryption more than 100%. In general, you can expect a speed increase that ranges anything from 15%-50%. It looks like Intel hit the jackpot with this CPU as it is used in many high-end NAS boxes. Real-time dual channel 4K hardware transcoding is finally possible due to the improvements to the CPU with a dedicated hardware encryption engine. CPU runs at 1.5 GHz, but when required it bursts up to 2.3 GHz. The only limitation of this CPU is that it supports a maximum of 8GB RAM.
What can users expect regarding transfer speeds? The average user will transfer documents (small files) along with backup files and movies (big files) to and from NAS. Transfer of a single 4k 30GB movie gave us a read speed of 119 MB/s and write speed of 112 MB/s. On the other hand, transferring small files has a tax, regardless of the storage used. My Dropbox library of pictures, documents, shared folders, and shared files was a great test. Transferring data to the NAS averaged at 65MB/s while downloading the files averaged at 80 MB/s. These are pretty good numbers for a 1GB interface. Business users and advanced home users can combine network interfaces and expect to double the speed. While it is still not a 10GB/s network, it is better than 1GB transfer. With the better CPU, which has a built-in encryption engine, you can also start using encrypted SHR which should not slow down your NAS. Synology supports several types of RAID, like 0, 1, 5, 6 and 10, but by default, Synology Hybrid Raid (SHR) is selected. For the average user, this is the best choice as it allows a little bit more flexibility with the drives and it does not require any knowledge of RAID.
A preferred selection for a file system which is now btrfs. Btrfs is a next generation file system which allows for some neat features. Flexible Shared Folder/User Quota System, Snapshot Replication, Shared folder backups system-wide snapshots, File or folder level data restoration, Automatic file self-healing, Data consistency of backups and the list does not end. If you are a home user using NAS to share home files, you will love btrfs reliability. Business users, on the other hand, will enjoy many advanced features.
DSM – DiskStation Manager
DiskSation Manager or DSM for short is what makes Synology NAS. I mean, the hardware is assembled with quality and usability in mind. You can access and change vital parts in a minute. But the hardware by itself is nothing without the software. You only deal with hardware for 10 minutes or so, you have to install HDDs and that is it. Once you position NAS on its place, you barely touch it again. On the other hand, you will deal with the software part of the package much more often. And let me tell you, that is some experience. In the beginning, DSM was just a user interface where you set up RAID type and set shared folders. Now it has evolved to the software repository packed with features and functionalities. Many users still think of a NAS as a network file share. But with Synology NAS you can turn on so many features that you expand a "network shared folder" to the web server, virtual machine manager, backup appliance, network video recorder, docker appliance…. the list does not end quickly.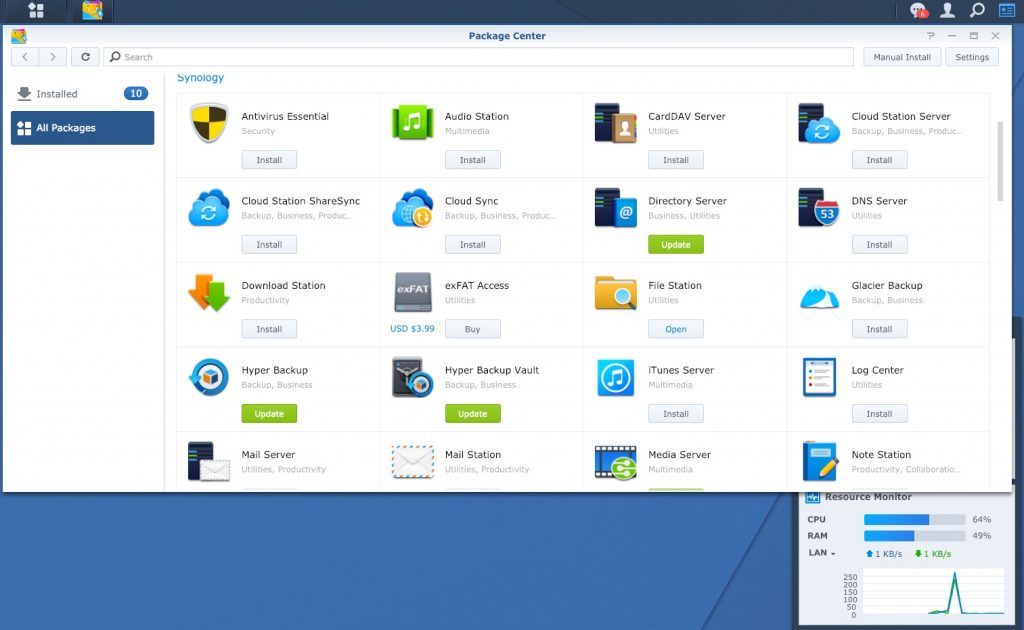 In the past storage device was just a device for storing files. Now with Synology, you can cover most of SMB computing. I like the fact that you can run virtual machines on NAS, even use anti-virus for file shares, and you can also run third-party apps. If you need reliability, you can install the High Availability Manager and connect two NASes into Active-Passive cluster. If one device fails, the other one will take over. That way you can't lose your data.
Conclusion
DS918+ looks like perfect little NAS, the only complaint you may hear is that it is missing a 10GB ethernet ports. While it is true that a small percentage of users could benefit from the faster network, the majority of users will not have that problem. I mean, if you need a 10GBe interface, you can invest a couple of bucks more and get DS1517+ or newer model which in addition to supported 10GB network interface brings faster CPU, more RAM, and more HDD slots. If you need a faster interface, you can use link aggregation to combine two 1GB interfaces and essentially have a 2GB interface. In this price range, I found only one NAS with a 10GB interface, but it was not Intel-based, meaning you can't run virtual machines. Also, network transfer speed was only 50% of the advertised 10GB interface. Just a little bit faster than DS918+ when using both ethernet ports.
A friend who runs a small accounting firm, was thrilled when I explained to him what this little beast could do. He has one laptop running constantly so they can run an accounting program from the network. Besides, they often have problems with the printer. If a computer that has a printer connected, is shut down, nobody can print. DS918+ can fix both issues; it can run a virtual machine, can be a print server and can also backup all of their PC's. Until now, they didn't have a proper backup.
In the end, you have to ask yourself what will you do with a NAS. For the majority of people, DS918+ is sufficient; storage can be expended, RAM can be upgraded, SSD cache can be installed. For all who need more features, Synology has a wide range of devices, and your requirement can be matched.