According to new data from Adobe projects, E-commerce will have its first trillion-dollar year of sales in 2022 as people continue to shift their spending habits online amid the COVID-19 pandemic. With that kind of growth, managing customer relations effectively is necessary for improving and keeping good relationships. It is the most effective way to grow your sales.

The same goes for IT professionals supporting in-house employees. Pandemics caught companies unprepared, many adopted Hybrid work which enabled companies to continue operating without closing down. One challenge IT personnel has to accept is that they have less chance of being able to visit a user in-person to solve their issues. For this reason, a good help desk platform, especially one that adheres to ITIL, short for – Information Technology Infrastructure Library is needed so that IT departments can keep their users happy and productive on a high level.
What Is Help Desk Software? What is ITIL?
Help desk software should be one of the company's top priorities regardless if the company is a small or a large organization. Help desk solutions generally revolve around what's called a ticketing system.

The term "ticketing" refers to how customer or user problems reach service reps. Any problem gets into a ticket format that contains all its basic information. Usually, tickets include a summary of a problem, the customer ID or email, the time reported, the department, and which service rep was assigned the problem. How a system manages these tickets, customer and rep's experience is the primary differentiator between help desk solutions.

There's a wide range of help desk software available. You'll find out that not all help desk software will be equal. But what'll differentiate one solution over another will often be dependent on your business' needs rather than technology or product quality.
Want some ITIL?
ITIL is an established service framework used mainly by IT management companies. It is a set of best practices that include many checklists, procedures, processes, and tasks. Having ITIL effectively govern how your company interacts with problems can be beneficial depending upon your particular industry. ITIL may seem a bit overwhelming for smaller enterprises but it does bear fruit once you follow it. ITIL is not for everyone. First, determine if your company could benefit from ITIL practices. For example, the IT department in charge of the data center and supporting users would benefit greatly from ITIL, on the other hand, an online store where user engagement is mostly generated from social media will likely not have the same benefits.
Best HelpDesk software
ManageEngine ServiceDesk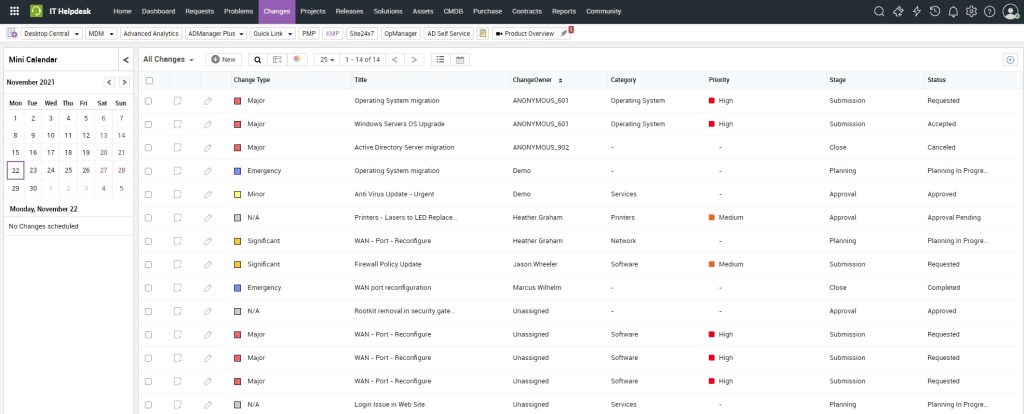 ManageEngine ServiceDesk is my favorite service desk solution. Let me explain why. It is available as a SaaS or as an OnPremise solution. While some companies have no problems using cloud solutions exclusively, some companies require OnPremise solutions either for security or some other reasons.ManageEngine ServiceDesk Plus is available in three editions: Standard, Professional, and Enterprise. Standard edition is optimized for helpdesk, with Incident management, Self-Service portal, knowledge base, SLA management, and reports. The professional plan includes everything from the Standard version but adds IT asset management and Purchase and Contracts Management. The Enterprise edition includes everything from Standard and Professional, along with Problem Management, Change Management, Release Management, IT Project Management, Service Catalog, and CMDB. Unlike other vendors who try to lure new customers with free trials or a free license for one technician, the standard edition of ServiceDesk Plus is free upto 5 technicians! Imagine having an option to use a product for free, and when your team needs grow, you can easily upgrade to a plan that meets your requirements. ManageEngine ServiceDesk Plus' user interface is gorgeous and intuitive. ServiceDesk Plus is also PinkVERIFY ™ ITIL® 4 certified for its Incident Management, Change Enablement, Problem Management and Service Request Management practices, and if you are looking for the best ITIL solutions, well ManageEngine is the one.
Freshdesk
Freshdesk is a SaaS-based customer service solution that enables businesses of all sizes to deliver good customer support. Freshdesk supports requests coming in via email, web, phone, chat, including social media into tickets. Freshdesk lets you automate workflows, supports self-service, manage SLAs, and measure helpdesk metrics, so you can stay on top of all things related to customer support. Freshdesk also offers out-of-the-box features. For example, an AI-powered support chatbot, predictive support capabilities, and field service management. You can start with the free plan, and then scale to the one that suits your needs.
Freshservice
Freshservice is the big brother of Freshdesk. It's a SaaS solution for IT Service Management with full ITIL support. It has a rich set of API's for custom integration, automated workflows, smart analytics, and marketplace apps. You can offer your customers a great user experience in the channel of choice with support for MS Teams, Slack, or Freshservice Chatbot. It also features Machine Learning powered suggestions and responses so your IT team can focus more on the strategic initiatives. Freshservice does not have a free plan, but pricing starts from $19/agent per month.
HelpDesk
HelpDesk is an online ticketing system that aims to simplify your team's work. It has a lot of features that support collaboration within your team. You can group tickets based on filter, you can use tagging, private notes, assign tickets to team members and create responses. You can easily import data from LiveChat tickets to HelpDesk, hence it is a good option if you are already a LiveChat customer.
ZenDesk
ZenDesk is one of the first SaaS helpdesk solutions. It offers IOS, Android versions so you can also use your mobile devices for a good experience. It has many advanced features like Activity tracking, Alerts, Appointments Management, Asset tracking, Assignment Management, Automated routing, Availability management, Batch communications, Blended Call Center, Call Center Management, Call Loggin, Call recording. It doesn't have a free version, plans start at $19 per user per month, but quickly rise in price when you select more features.
FreeScout
FreeScout is a HelpDesk and Share mailbox solution. It is a special product. Special because unlike other proprietary solutions FreeScot is OpenSource and FREE. You can host it by your self or you can select from many hosting companies to host it for you. If you require more than a set of basic features, you can buy Add-ons that are not that expensive. It is a good starting point if your budget is tight and you can easily extend it. It supports seamless email integration, push notifications, notes. You can merge, move and send conversations easily. It supports pasting the clipboard into the reply area. It even supports LDAP integration. There are many paid add-on modules available like Time tracking, Ticker translating, Live chat, Knowledge base, etc… The project is quite young, and I hope they can sustain such a price policy. It is quite common for similar projects to go out of business if they are not able to keep up with low pricing.