Usually when I attend conferences I meet a lot of people who use Veeam for virtual infrastructure backup. I always ask them how they like the product.
What is interesting is that most people say that they have no complaints, but all would like if it had ability to backup physical infrastructure. Yesterday I attended local conference where I met  Michael. He said: I have only one feature request, I want Veeam backup physical server a reality.
While only a speculation, this may soon be a reality.
Veeam announced Veeam Endpoint Backup FREE
It's a standalone client – which can backup physical Windows devices. Output format is VBK. The same as the one used by the enterprise product.
Veeam Endpoint Backup FREE is a product that allows you to backup your Windows-based computers to an internal or external hard drive, a NAS share or a Veeam Backup Repository. It writes the backups in VBK format, which is the same format as Veeam Backup & Replication. With this product, you will be able to protect files, volumes or your entire computer based on your own schedule or at logon or logoff.
Wow! this! is! Major!
Veeam Endpoint Backup has a great interface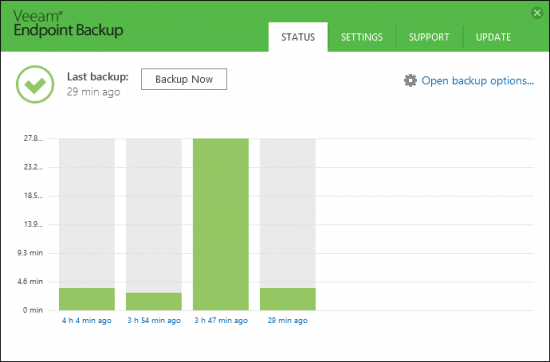 Veeam Explorer is part of Veeam backup used to restore objects from backups. It's also present in Veeam Endpoint Backup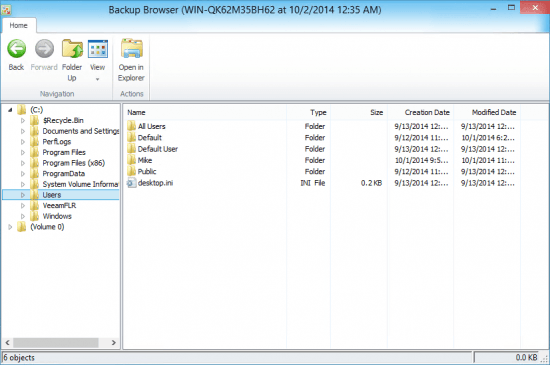 Veeam Endpoint Protection Backup is a Free product which can backup Windows pc's. For Free. Now, let's speculate. Veeam core business is a Virtual infrastructure backup. Physical backup was requested a lot. If Veeam has a technology which can backup a physical Windows PC, how long until they officially support physical server backup? And once that happens, how long until they officially support physical backup in the Enterprise version?
I think that we can expect integration in one of the next Veeam B&R versions. Usually Veeam releases 2 major versions per year. Judging by the fast developement pace, we may see integration happen as early as next year, if not, year after.
Will Veeam support backup of physical servers in Veeam Endpoint Protection Backup? Well, yes and no. Once released, officially, Windows Server won't be supported in the first version. But, the product can backup Windows Server products. Veeam engineers tested various scenarios including backing up Windows Server and backing up servers in a VMware Free edition. Based on quality of their code, they may have a very solid product which could pose a big problem for Acronis and EaseUS.
Can Veeam backup physical server?
Will you be able to use Veeam to backup physical server? Soon, yes. Will it support advanced scenarios like Windows Server clustering? At first no. Will you be able to finally use Veeam to backup a Windows Server in a VMware Free edition like Unitrends? Yes. What I like now with Veeam is that you will soon be able to use it for complete infrastructure.
Good times ahead for Veeam customers. It's time now.
You can expect beta in November and GA in early 2015.
You can read more on VEB Free announcement page.